MLB Appoints Lava Controls for Enhanced Fan Engagement & Real-Time Game Updates

30th May, 2023 – Major League Baseball (MLB) has appointed Lava Controls, the only Sprinklr-approved vendor for social listening software, to manage their end-to-end social media command center for the benefit of enhanced fan engagement and real-time game updates.
This partnership aims to create stronger relationships between MLB and their fan base of over 170 million through real-time analytics, game celebrations, and up-to-the-minute social media engagement. Lava's media players with unmatched intelligence ensure content is always alive. When it comes to sports, real-time matters.
"Before the Lava Controls installation, we were in search of a digital display solution that would give us the data we needed to better support our teams and fans." Dylan Colaneri,Director, Social Listening & Innovation at Major League Baseball
"We're impressed with the quality of the installation and the wall looks fantastic! We're excited to get started in this new way forward. We're grateful for all the support Lava has given us."
MLB is the first sports organization to partner with Lava Controls for digital display solutions, with their easy-to-use interface and simple setup process giving busy sports marketing teams a 'done for you' social media command center with built-in IT support.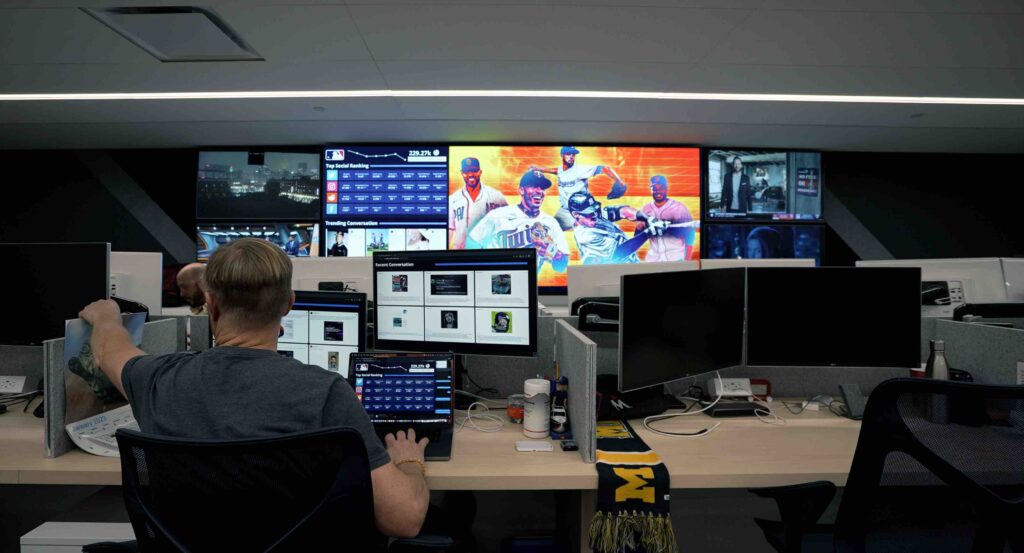 "Lava's innovative social media command center technology allows sports teams unprecedented visibility into the online sentiment of fans in real-time, improved listening and response time." Stephen Loeckle, CEO of Lava Controls
"From celebrating a big play with fans to nurturing passion for the game, Lava is proud to partner with the MLB for our social media command center technology and is looking forward to further successful sports partnerships in the near future"
To learn more about Lava Controls and their recent work, visit https://www.lavacontrols.com/social-media-listening-and-command-centers/ or to learn more about Lava Control's work with Major League Baseball, visit https://www.lavacontrols.com/major-league-baseball/.
---
About LAVA Controls
Lava Controls is a one-stop shop for digital walls and offers a fully managed end-to-end system for marketers to learn, use and manage, with setup being a simple, stress-free process.
Lava provides the only end-to-end self-healing digital signage solution to
manage and control all your media players and digital displays remotely
from any location without worrying about embarrassing on-screen errors.
The easy-to-use interface, streamlined hardware & reliability enables busy marketing teams and company leadership to manage their company messaging with a simple and effective solution that doesn't require IT support.